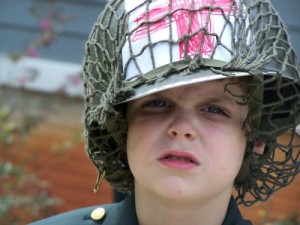 "We carry an insidious prosperity gospel around in our dark, little, entitled hearts."  ~Matt Chandler- The Explicit Gospel (Crossway, 2012)
The Lord has brought this quote often to mind recently.  Perhaps it's because I am still surprised and disappointed when things don't come easy.  I want to believe that the "good" that God is working in my life is all about having happy times on this earth, rather than sanctification for the life to come.
My heart is, indeed, dark and entitled.
I see this tendency in my children, as well.  Truth be told, they learned many of their sinful ways from me.
It is tempting to raise my children in the type of fantasyland bubble that I crave for myself, in which their greatest trials involve choosing between vanilla or chocolate ice cream for dessert.  I would shield them from a bedrock truth about this life: that we are at war. 
Even if I am reviled for my faith or suffer on account of Christ, that is not what I imagined for my children.  If I'm honest, I want to believe in a stripped down prosperity gospel, especially for them.  They need not drive BMW convertibles through life, but a smooth road with no bumps, twists, or turns would be nice.
I don't want them to have to "endure hardships" (2 Timothy 2:3, 2 Timothy 4:5).  For them I would have only rainbows, never rain.
But the Scriptures make it clear that a worldwide spiritual conflict has been raging since the fall of man.  As the Church of Christ, we are soldiers in this fight, and so are our Christian children.
This is not a thought we care to dwell on, especially as we look upon the sweet faces of our young ones.  But we cannot make this battle go away by closing our eyes and pretending it isn't there.  Nor can our children "opt out" until they reach an age of maturity.  Satan doesn't play by those rules.
You can read the rest of my post here, on Visionary Womanhood.
Related posts: