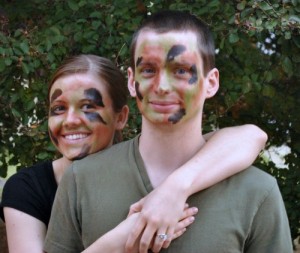 "Make Love, Not War" is an iconic Vietnam-era slogan that is still used in protests today.  It speaks to our desire to live at peace and to lead quiet lives with those we love. It is also a mutually exclusive statement.  "Making War" is the opposite of "Making Love" in the view of the radicals who hold the placards.
Not so for the Christian wife.   I would propose that, for her, the two go hand in hand, and that the former is actually part and parcel of the latter.
Being your husband's helpmeet is not just about handling KP duty and cleaning latrines–though a woman's role may certainly include those tasks.  It is primarily about waging war in the name of the King, alongside your husband, and raising up the next generation of Christian soldiers who will be called to war in their generation.
As Christians, we are called to a life of continual warfare against "the spiritual forces of evil in the heavenly places" (Ephesians 6:12, ESV).  Truce is not possible, nor desirable.  We are at war.  And making love with your husband is a powerful weapon of your warfare as a Christian wife!
You can read the rest of my post here, on Visionary Womanhood!
Related posts: